Presents: Majestic Praise!
with Mark Thallander, organ and Peter Green, piano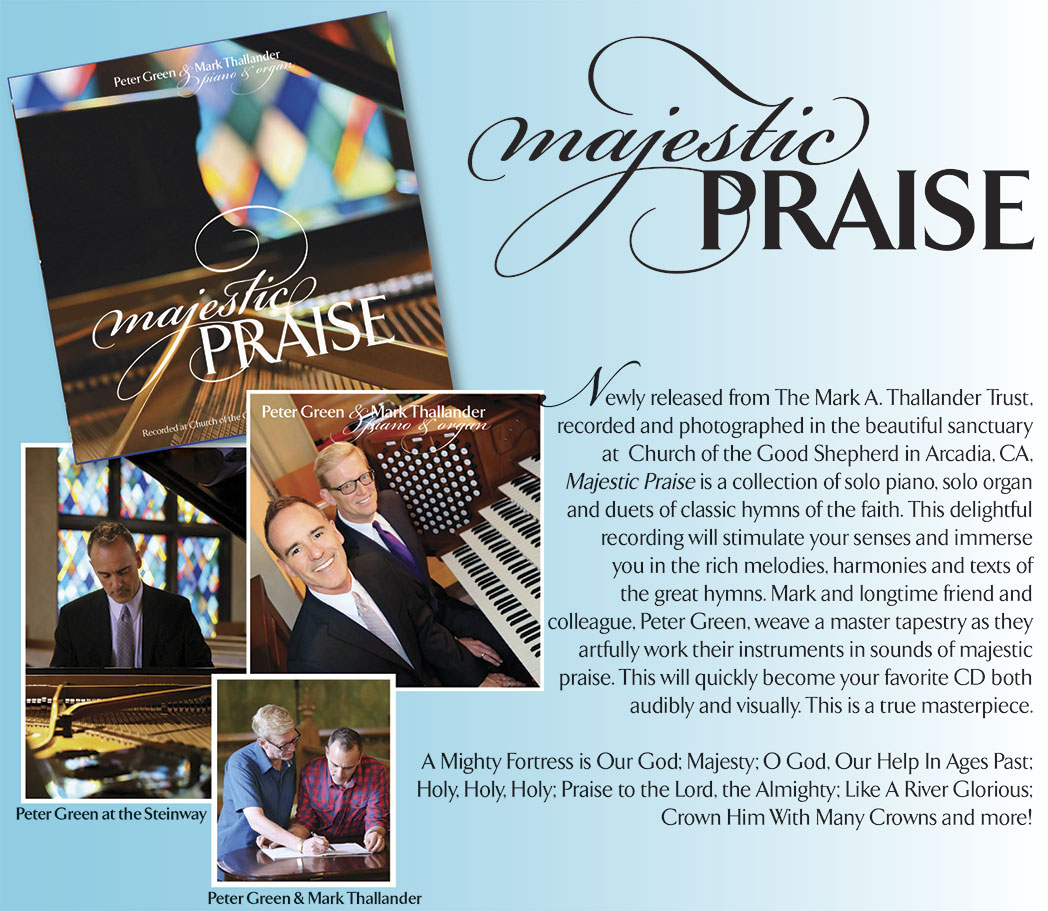 Short Biographies for the Musicians
Dr. Peter Green was born in Newfoundland, Canada's most easterly province. He received his Master of Music and Doctor of Musical Arts degrees with full scholarship from the University of Southern California under the direction of Stewart Gordon, where he also served as Assistant Lecturer of Piano. While completing undergraduate studies at Memorial University of Newfoundland, Dr. Green performed twice on CBC (Canadian Broadcasting Corporation) television and was selected to study at the Guildhall School of Music and Drama, London, England, in the Fall of 1987. In July 1989, he received first prize in the national piano competition of the Canadian Federation of Music Teachers Associations in Edmonton, Alberta. Solo and collaborative performances include the University of Southern California, Los Angeles City College, Los Angeles Pierce College, Glendale College, University of La Verne, Central Michigan University, The Crystal Cathedral, Cathedral of Our Lady of the Angels, Pasadena Conservatory of Music , the Los Angeles Chapter of the American Guild of Organists, and The National Conference on Piano Pedagogy, Schaumburg, Illinois.
Dr. Green currently serves as Chair of the Visual and Performing Arts Division at Glendale College, Glendale, California, where he oversees ten Departments, including Music, Theatre, Dance, Studio Art, Ceramics, Art History, Photography, Digital Animation, Media Arts, and Graphic Design. Dr. Green is also director of the Glendale College Concert Singers. In addition to his duties at the College, Dr. Green is Director of Music Ministry at Church of the Good Shepherd in Arcadia, California, and is on the Board of Directors of the National Association of Church Musicians, Glendale Arts, and The Mark Thallander Foundation. Dr. Green coordinated the establishment of The Mark Thallander Foundation Organ Scholarship at Glendale College. This is the first fully endowed organ scholarship at any community college in California. Dr. Green also serves on the Board of Trustees of the Mark A. Thallander Trust.
Dr. Green has recorded a CD of music for piano, horn, and flute, released in May 2008. "Souvenirs," a compact disc featuring Dr. Green, with internationally known colleagues Vieri Bottazzini, flute (Istanbul, Turkey), and Bruce Bonnell, horn (Mount Pleasant, Michigan), was recorded at Central Michigan University in 2005, was released on Centaur Records, and was nominated for a Grammy Award. Dr. Green recorded a piano/organ CD, "Majestic Praise," with organist Mark Thallander that was released in Spring, 2017.
He was asked to conduct The Mark Thallander Foundation Chorus at the International Haydn Festival in Vienna, Austria in July 2009, and was conductor of The Mark Thallander Foundation Chorus in Maui, Hawaii, in April, 2016. Dr. Green is also a frequent recitalist, adjudicator, and clinician in both piano and choral music throughout the United States and Canada.
Mark Thallander is a teacher, arranger, composer, author, free-lance organist; President, The Mark Thallander Foundation; and President, Honorary Board, National Children's Chorus.
During his 18-year tenure at The Crystal Cathedral, he assisted with playing responsibilities for services, television broadcasts, seasonal concerts, recording projects, as well as the pageants. He also served at Menlo Park (California) Presbyterian Church and Lake Avenue Congregational Church, Pasadena, and as Assistant Professor of Music at Vanguard University of Southern California, Artist-in-Residence at Evangel University and Adjunct Professor at Glendale College.
Mark's solo performances and duet programs have taken him to some of the largest pipe organs in the world, including First Congregational Church, Los Angeles; The Crystal Cathedral, Garden Grove; Cathedral of Our Lady of the Angels, Los Angeles; Lake Avenue Church, Pasadena; Bel Air Presbyterian Church (where he performed for President and Mrs. Ronald Reagan); St. Andrew's Presbyterian Church, Newport Beach; Central Union Church, Honolulu; Coral Ridge Presbyterian Church, Fort Lauderdale; Cathedral Church of Saint Luke and Merrill Auditorium, Portland, Maine; Basilica of Saints Peter and Paul, Lewiston, Maine; and Saint Patrick's Cathedral, New York City. While at Vanguard University, he served as accompanist for the 100-voice Concert Choir, performing regularly in many Southland churches, and also at East Coast venues including the Cathedral of Saint John the Divine, Saint Patrick's Cathedral, Times Square Church, and Carnegie Hall in New York City, and the Annapolis Naval Academy.
Mr. Thallander has produced numerous recordings of organ, piano, and choral music. Many of his organ and choral arrangements have been published by the Fred Bock Music Company. He has contributed articles to Creator magazine, Theology News and Notes and other periodicals. Mr. Thallander has served as a clinician and organist for national music and worship conferences, including American Guild of Organists, Royal Canadian College of Organists, Fred Bock Institute of Music, Calvin Symposium on Worship, and national church conventions, including the General Assembly of the Presbyterian Church (USA), the General Council of the Assemblies of God (USA) and the General Synod of the Reformed Church in America.
Mr. Thallander has held offices with American Guild of Organists, including Dean of the Orange County Chapter for three years, Program Chair of the Pasadena Chapter, a member of the performances committee for the 2004 National Convention held in Los Angeles, a member of the executive committee of the Los Angeles Chapter; and the chapel organ committees at Fuller Theological Seminary and Vanguard University.
Following an automobile accident in 2003, Mr. Thallander has been interviewed on radio and television programs, and also for newspapers, books and national periodicals. A book about his accident and recovery, Champions…Plus, has been a great source of inspiration.
Mr. Thallander holds a Bachelor of Arts degree from Vanguard University, where he has served as President of the Alumni Association, and where a fully endowed organ scholarship has been established in his honor, and a Master of Arts degree from California State University, Long Beach; with additional graduate study at University of Southern California. Mark is listed in the 60th Anniversary Diamond Edition of Who's Who in America, Who's Who in American Education, and Outstanding Young Men in America.