The Beacon
THE BEACON: CELEBRATING KNEELING IN EXACTLY THE SAME PLACE FOR 150 YEARS
"This is the Lord's Table and ALL are Welcome!" Fr. Gary 2017
MASS ON OUR OWN GRASS A HUGE SUCCESS!!! -- What a beautiful Service! With the Altar facing east right outside the eastern doors of Cleaver Hall South, chairs were set up in a U-Shaped configuration under our pepper trees. For the most part everyone was in shade; but the sun moved, some escaped into the Hall where they could still participate in the Service. For us the whole experience was lovely and moving. Do you realize that there is no other parish in the West San Gabriel Valley who could hold a Service like this on their own Campus? Also, on a less spiritual level, where would we be withoutStephen Faux setting everything up for the Service?
Gallery from Mass on the Grass!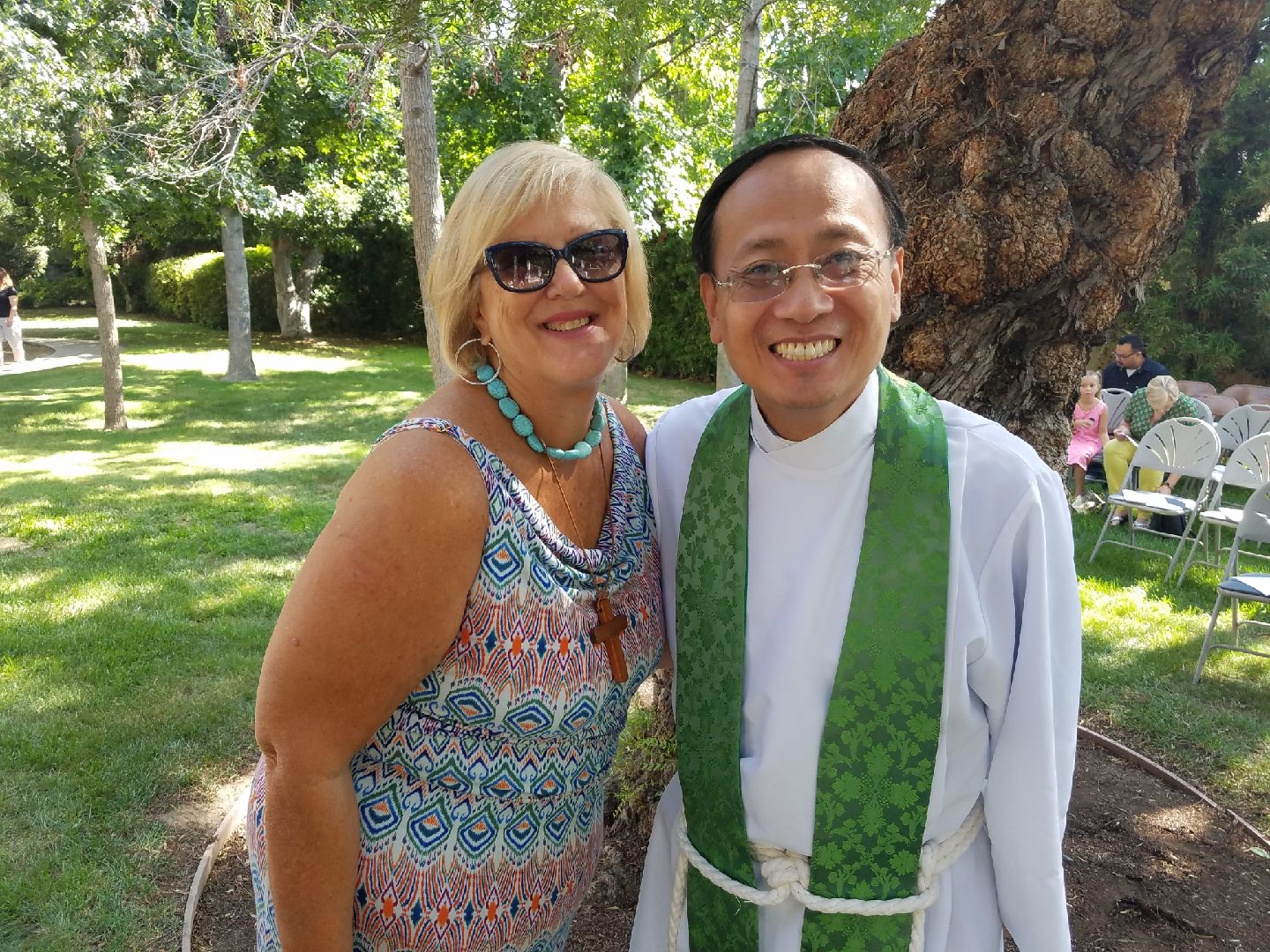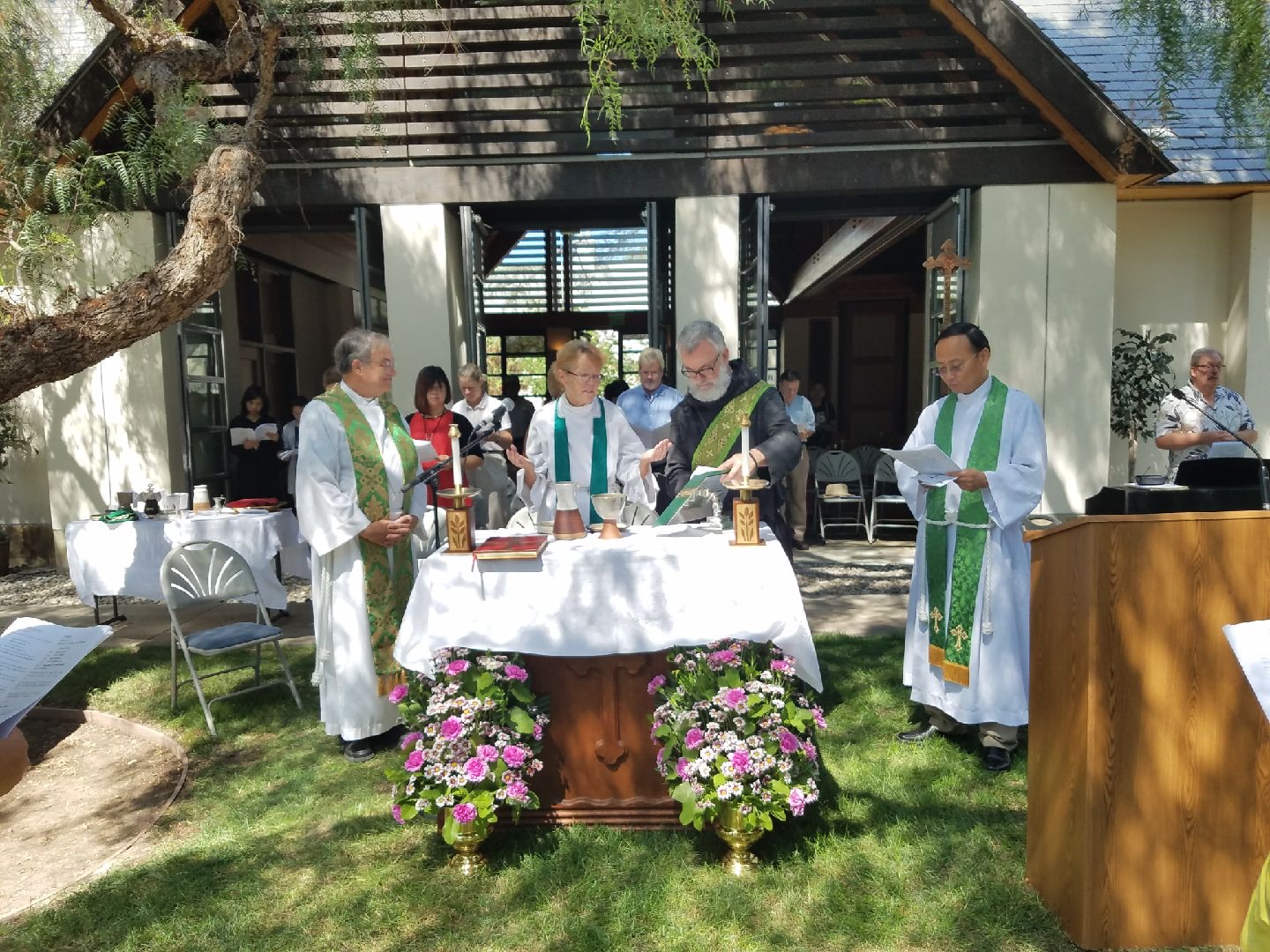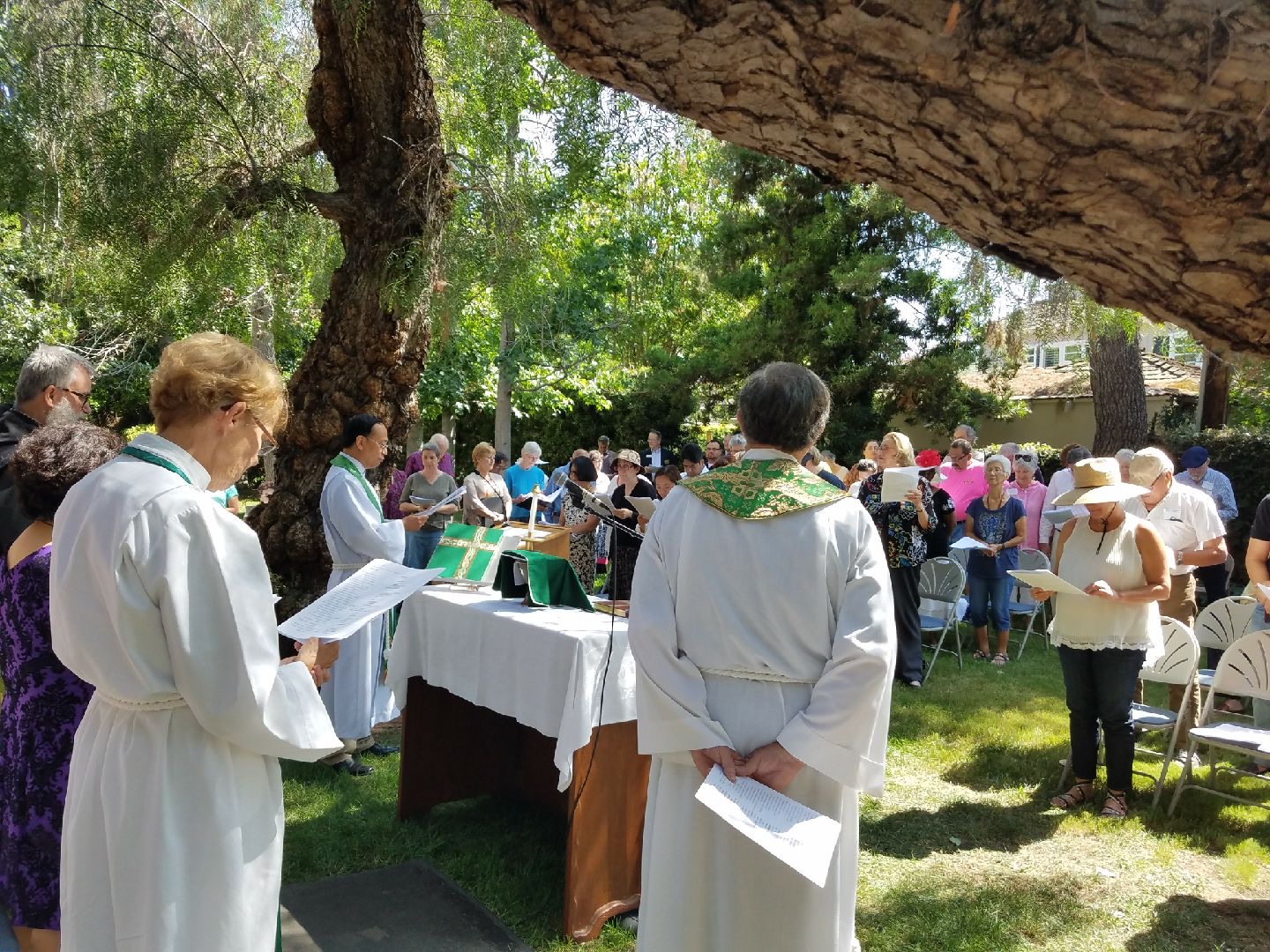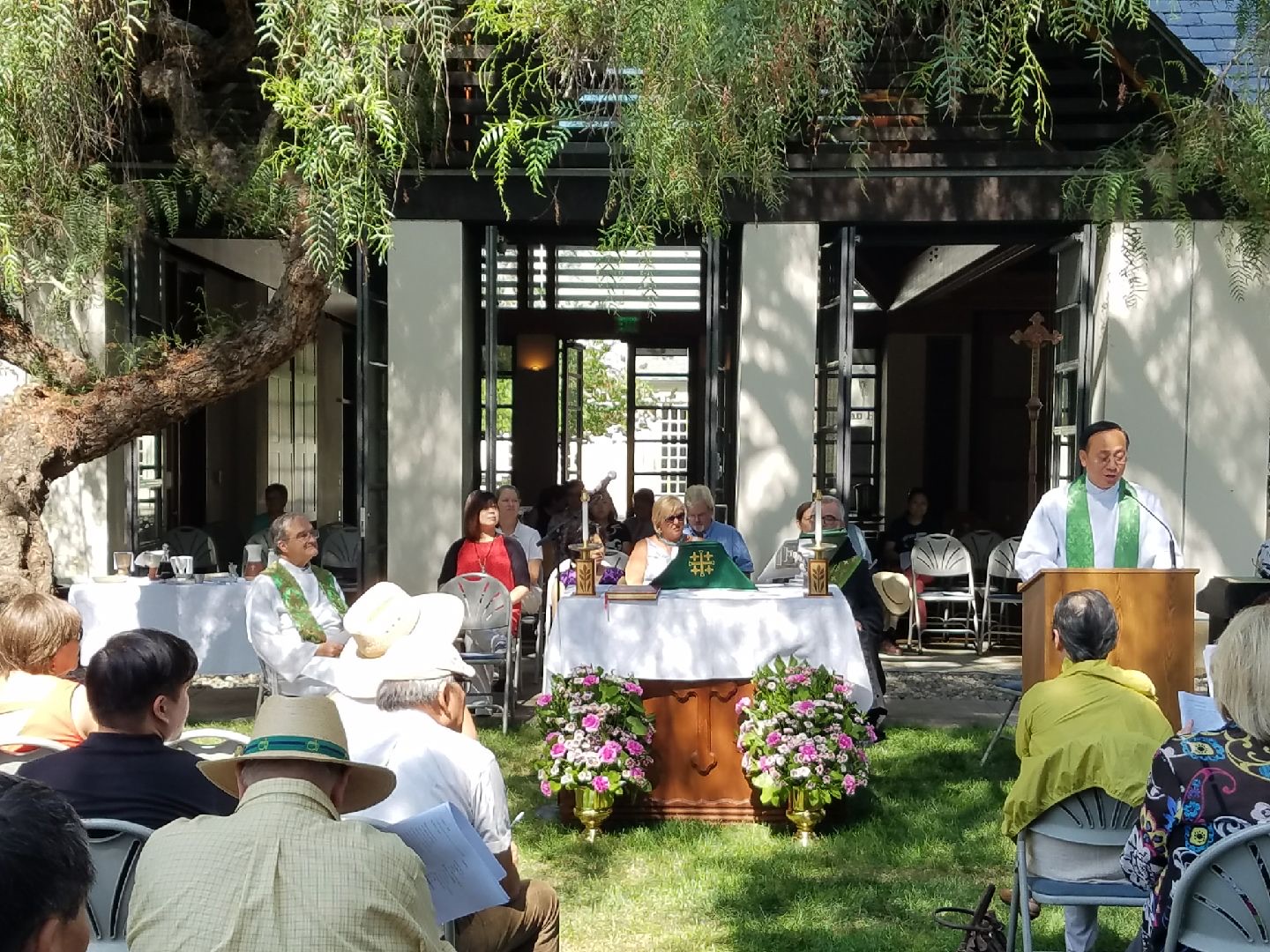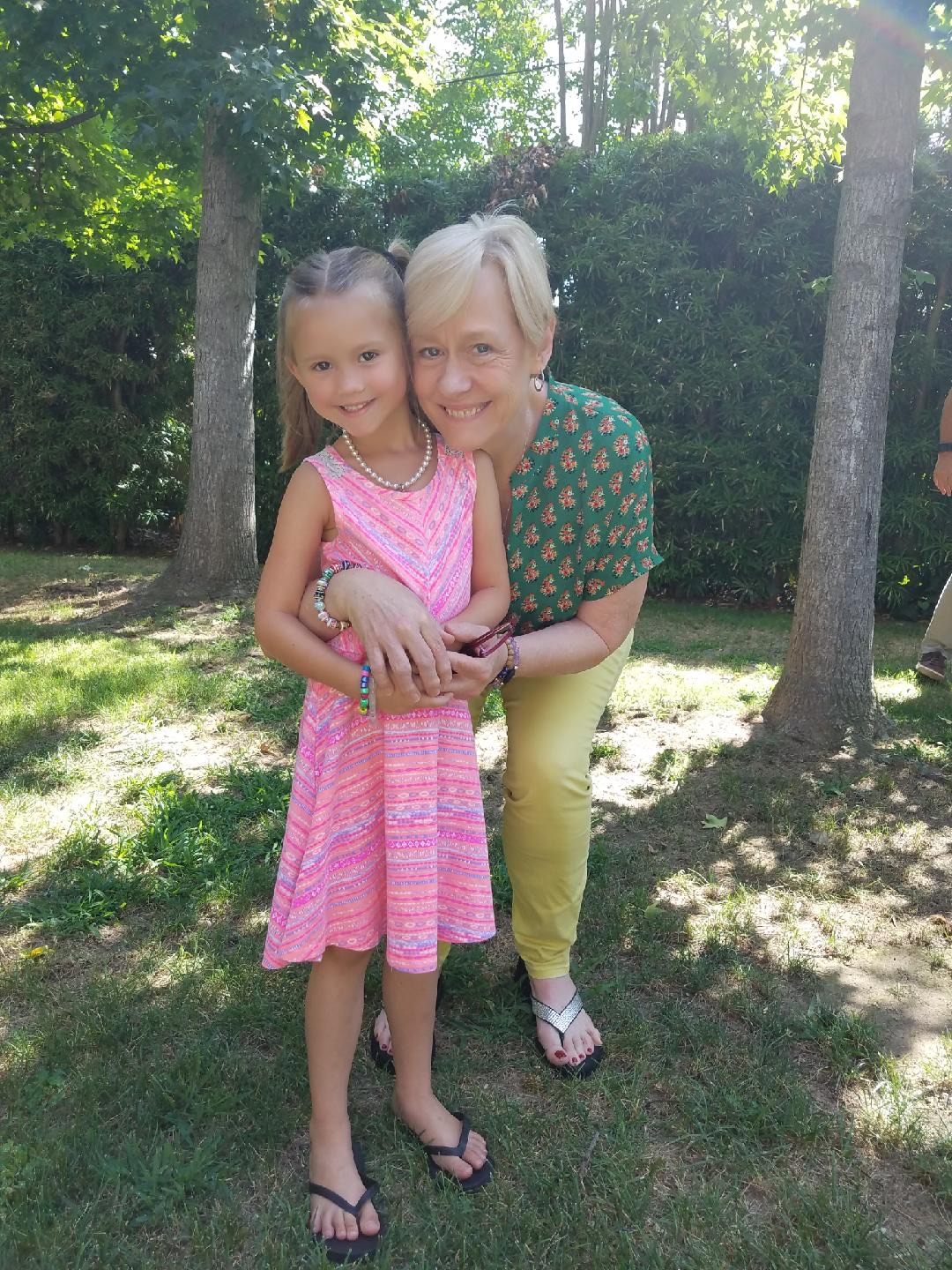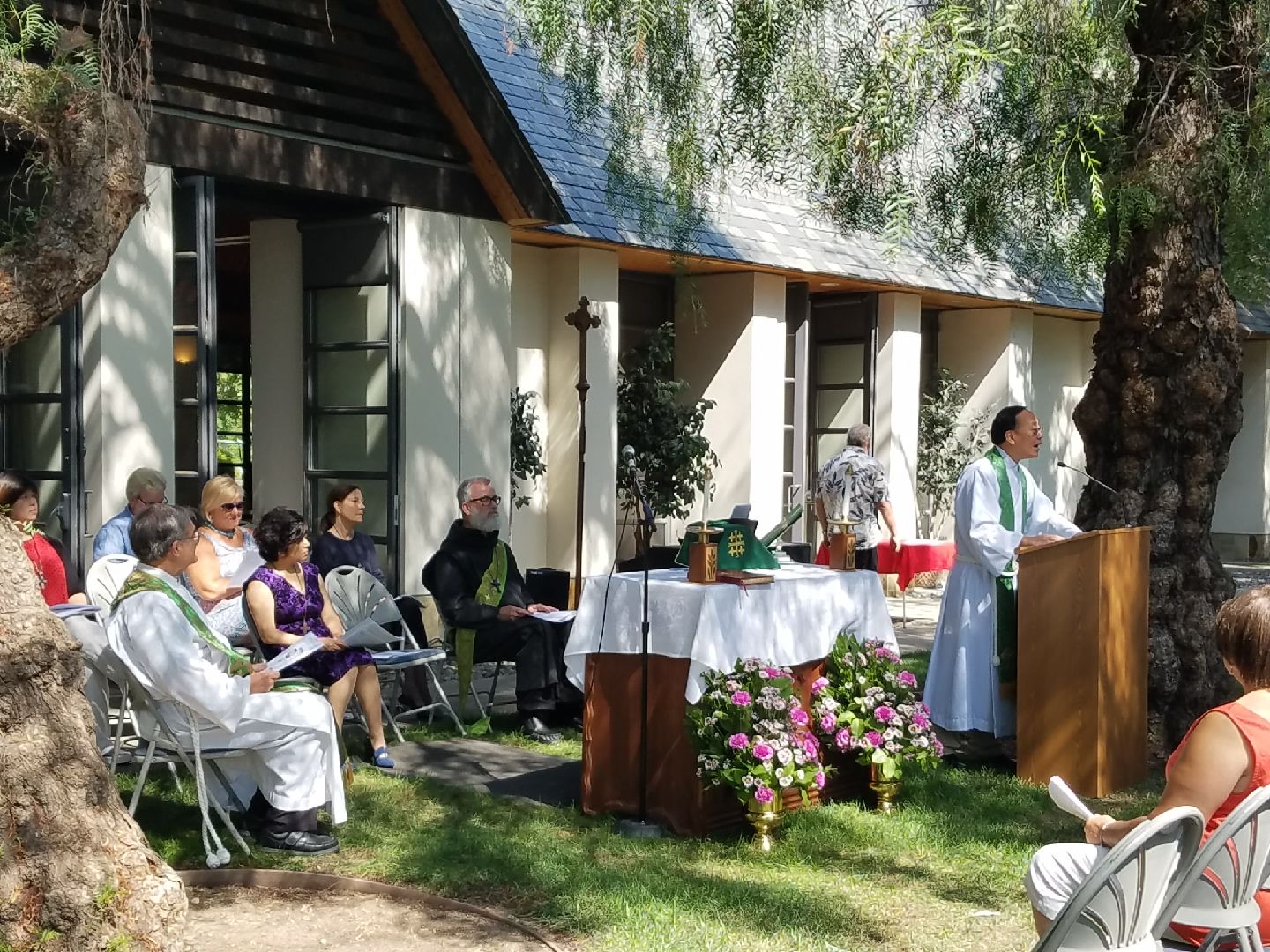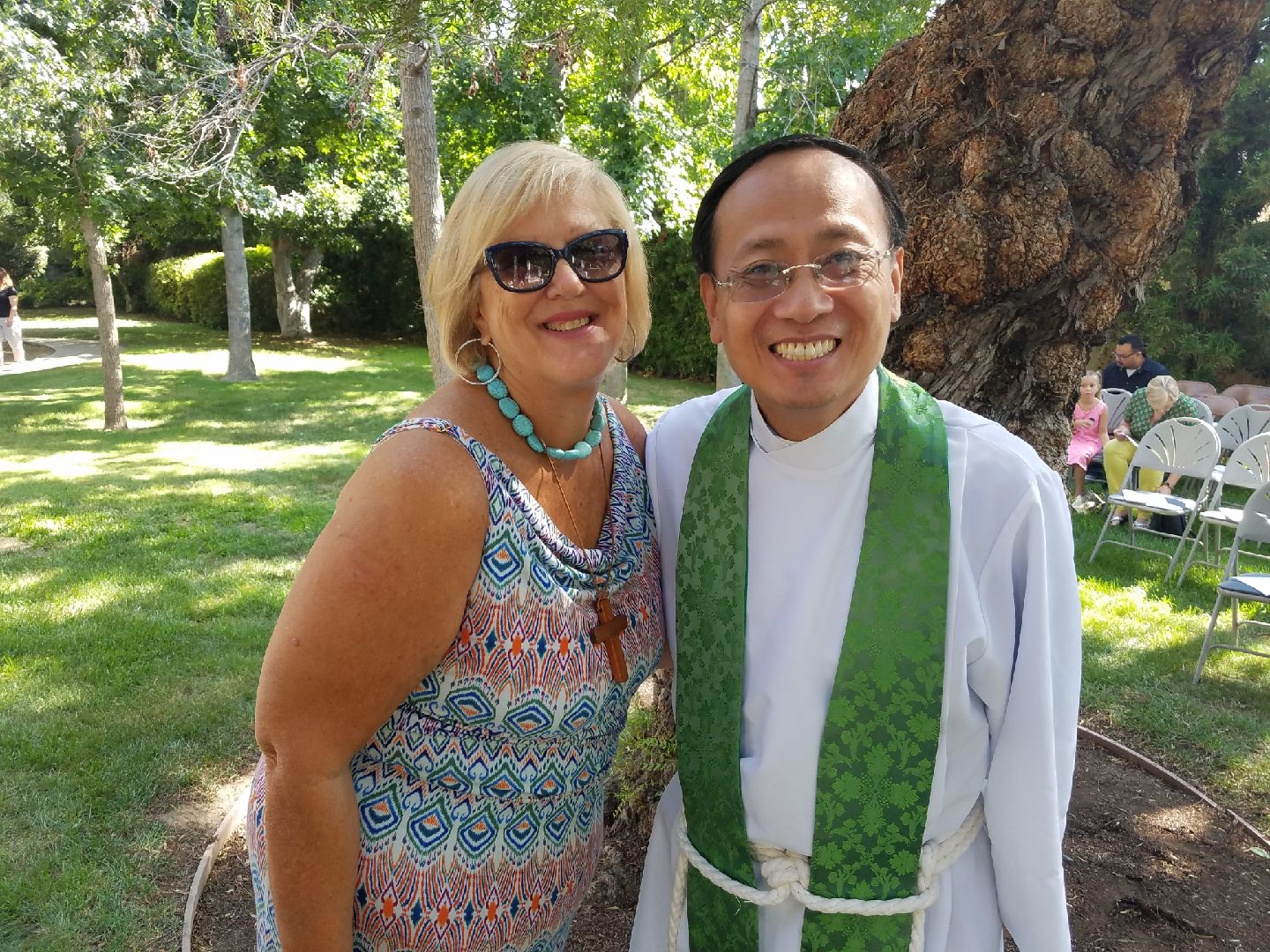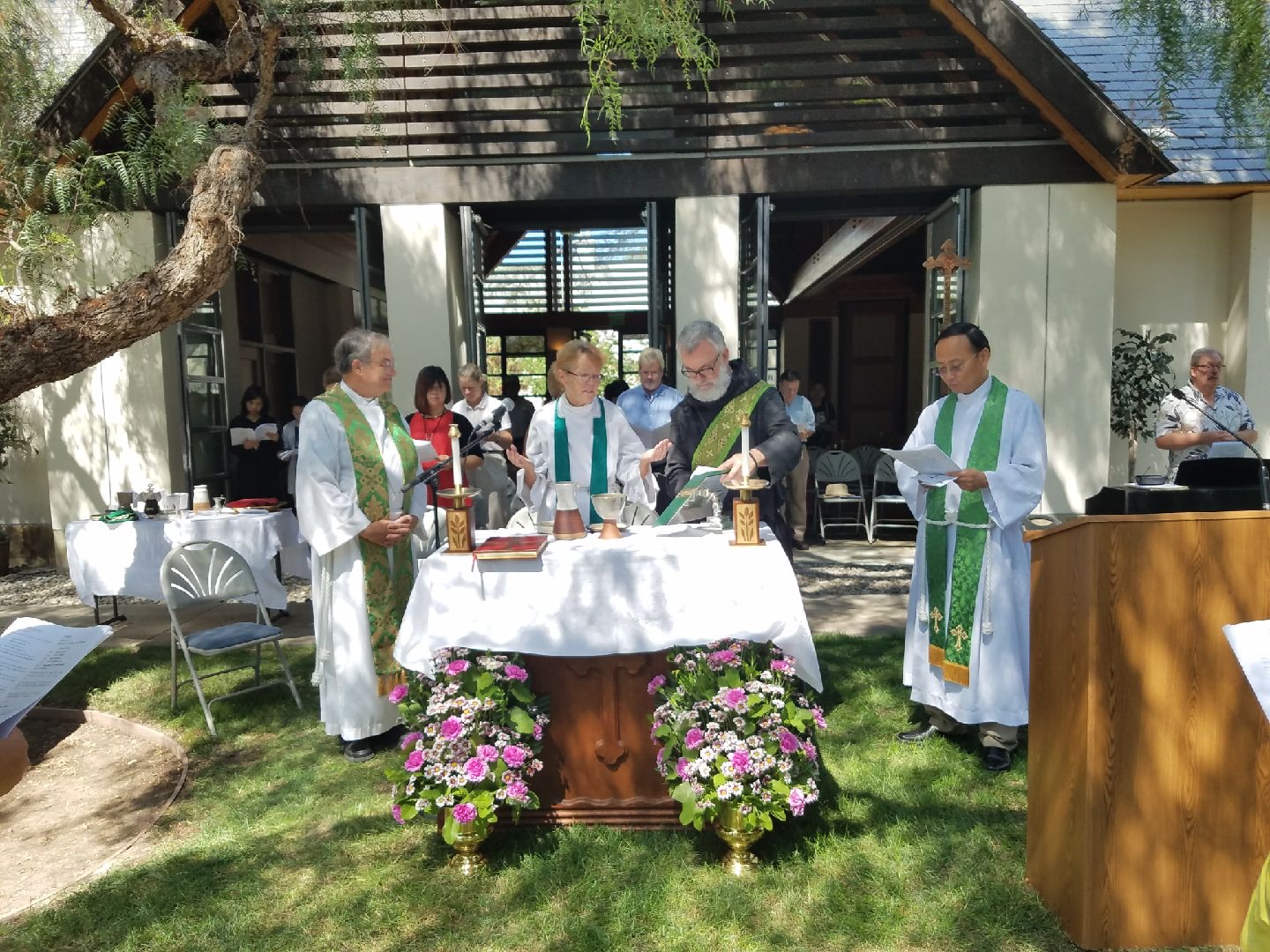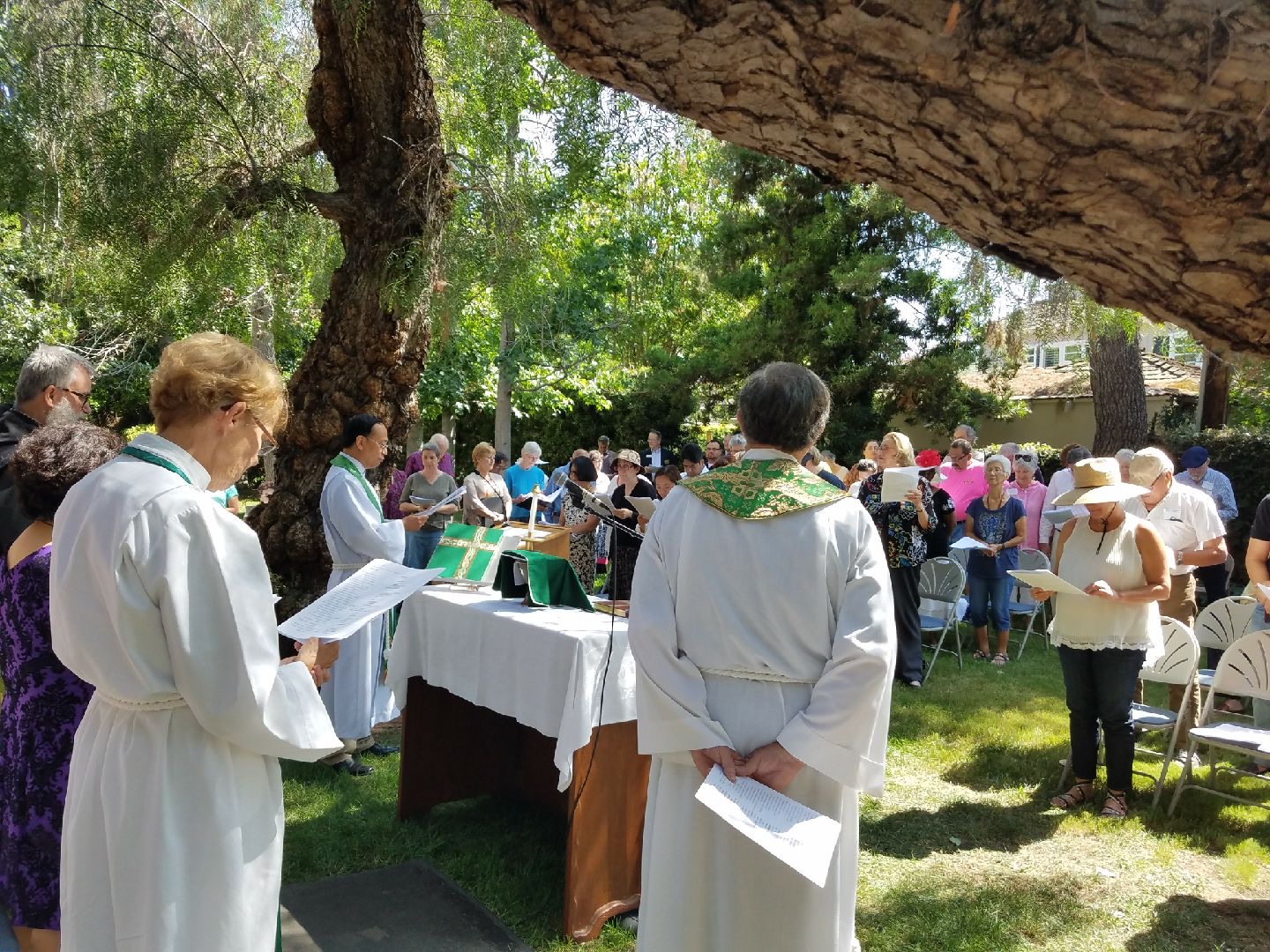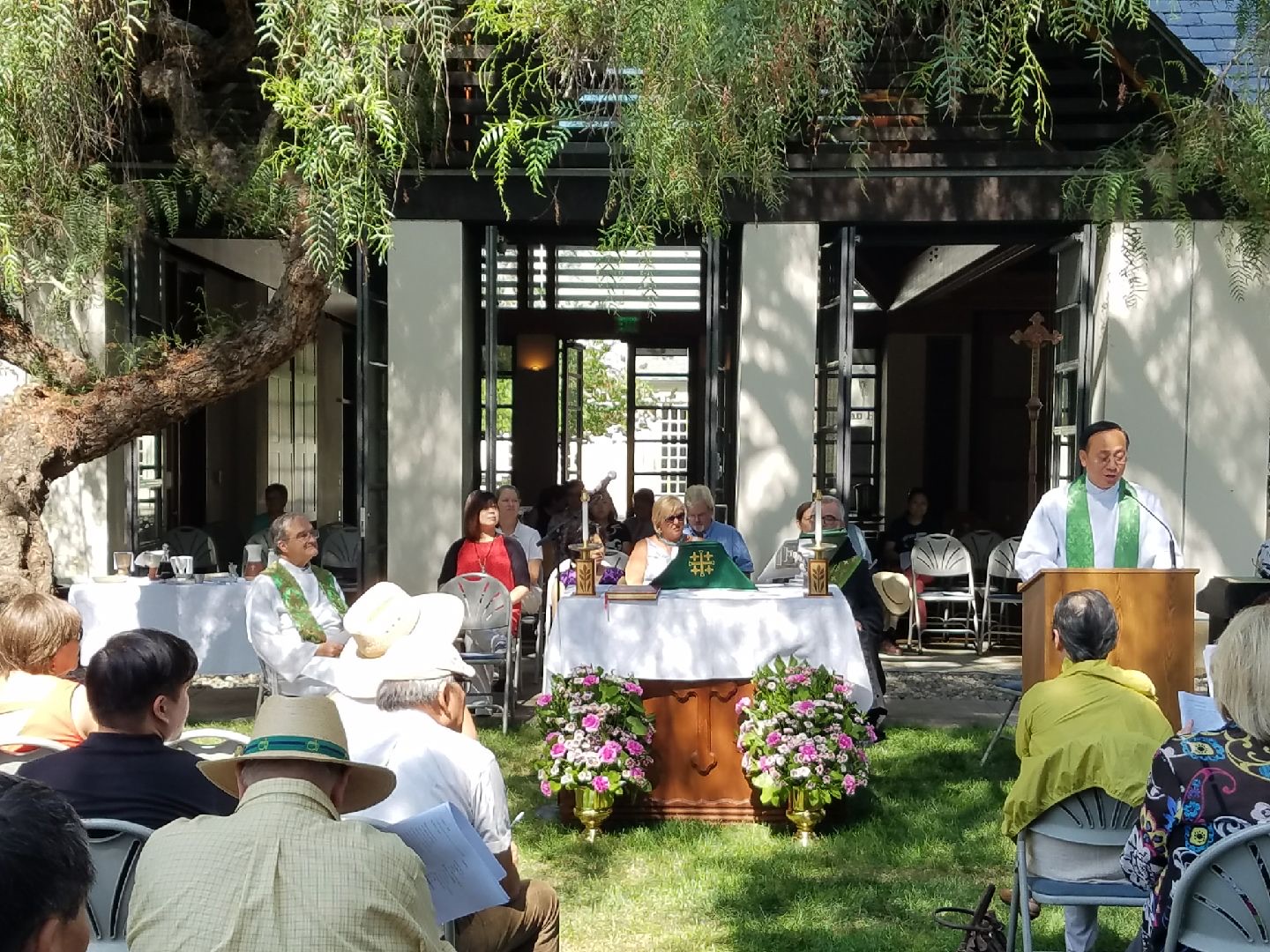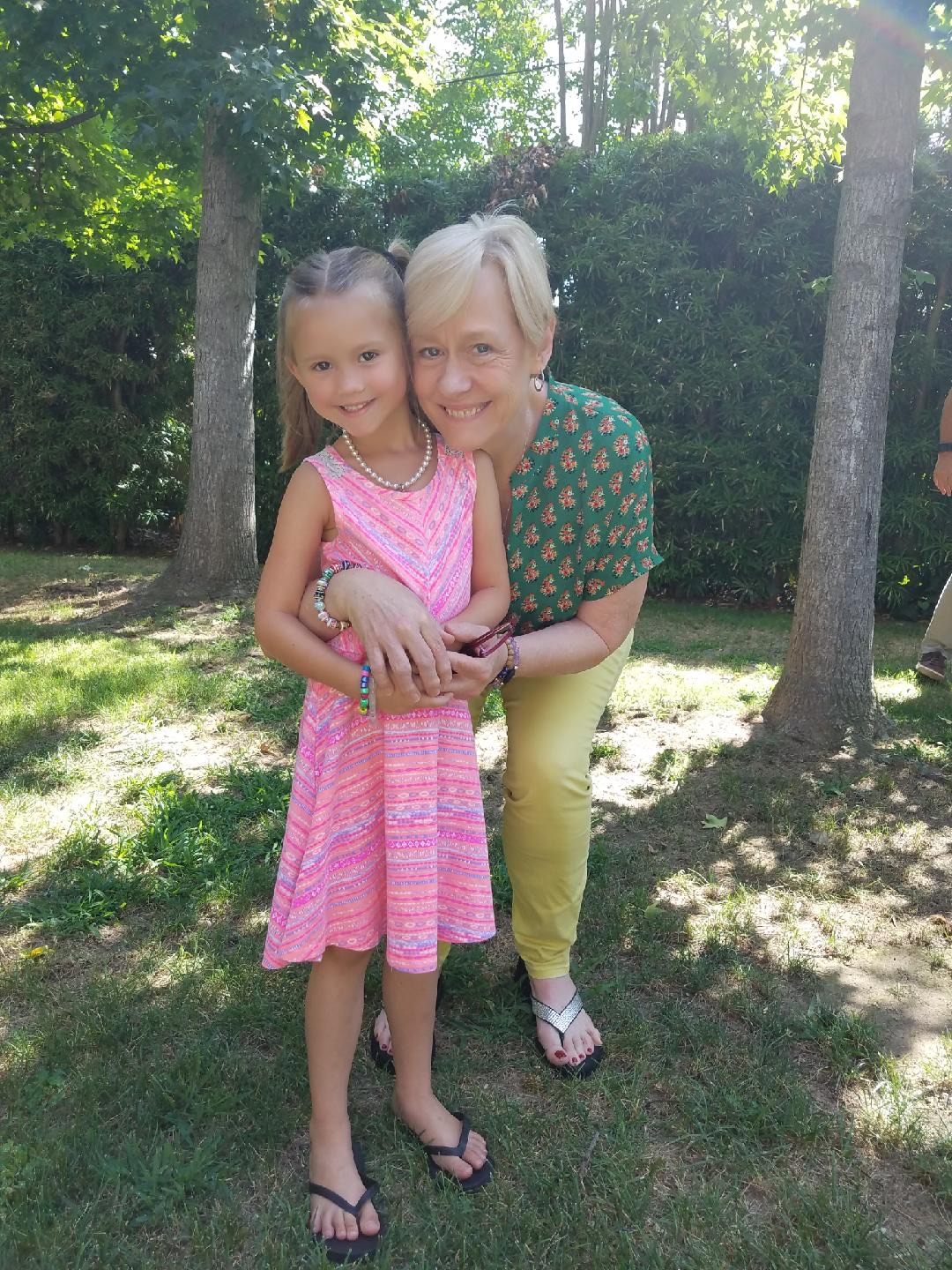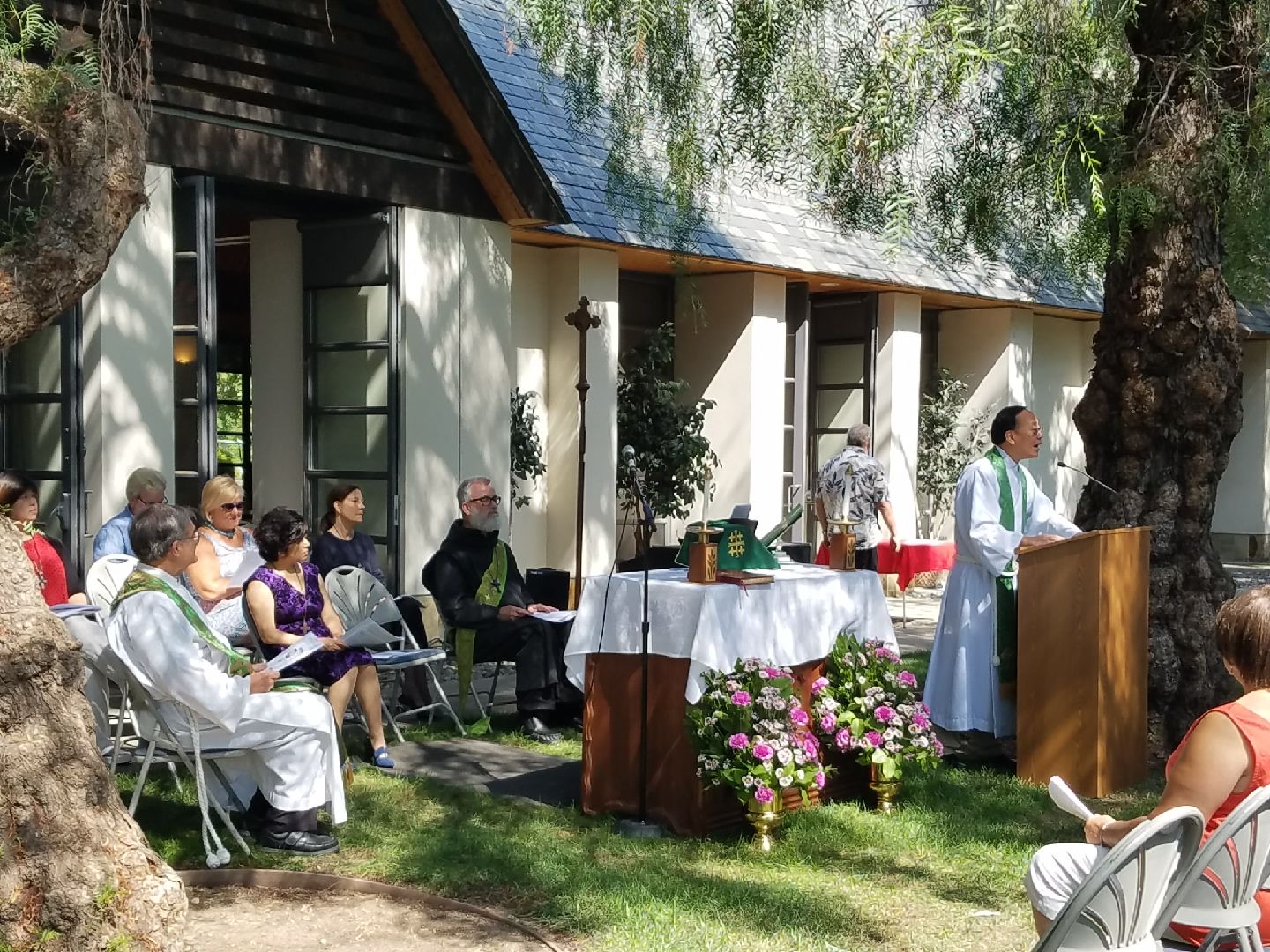 HOW TO BEST CAPTURE THE SPIRIT OF THE MORNING? The Offertory Hymn "In Christ There Is No East Or West" says it all:
"In Christ there is no East or West,
In Him no South or North,
But one great fellowship of love
Throughout the whole wide earth."
Following almost immediately after hearing The Nicene Creed recited by the Mandarin speaking congregants, we were deeply moved. When you reflect about it, THE Church of Our Saviour REALLY is a parish of the 21st century in Southern California. Consider the Outreach Ministries which COS continues to support:
Our Saviour Center Food Bank: (Seed Planted 1985), originally establishedto help ten families who were refugees from the civil wars of Central America;
Cleaver Clinic (Seed Planted 1999). established to provide health care to one of the most under served communities in Southern California;
Jubilee Housing (Seed Planted 2003), providing housing to people in recovery who historically have been ostracized by many in the community;
Dorris Dann Kids Campus (Seed Planted 2006), a modern, first class Center to serve the youth of the El Monte neighborhood, with a gym, computer room, art center, after school study area and kitchen;
PRISM Restorative Justice (Seed Planted 2006), committed to advocating for the those in prison, the majority of whom are people of color;
Sister Parish in the Holy Land (Seed Planted 2004), supporting, and advocating on behalf of, Palestinian Christians living in the segregated Israeli city of Shefa 'Amr;
Episcopal Cultural Center of Shefa 'Amr (Seed Planted 2011), Fr. Fuad Dagher dedicates Center resurrected from a community dump which COS and Diocese of Los Angeles played major roles in purchasing; and
Li Tim-Oi Center (Seed Planted 2014), dedicated to be the "nexus of Chinese ministry services, connecting people to needed social services, providing sacramental and pastoral care..." and much more.
THE SEED? THE POWER OF THE SEED -- Timing is everything, and God was alive and well in San Gabriel last Sunday at COS. How else can we explain The Holy Gospel assigned to The Rev. Thomas Ni: The Parable of the Mustard Seed!? Talk about a perfect setting in which to preach about small seeds, and what they can lead to -- all he had to do was ask us to look up to the majestic California pepper trees planted decades ago by our predecessors. From there all he had to do was to trace the first Seed planted in 1867 when the church was founded. As noted above, many more Seeds have been planted; THE Church of Our Saviour being the faithful, spiritual community it is, Fr. Thomas concluded his Sermon by stating that "we are people of action. Our action is to continue planting more seeds of the Kingdom of Heaven, so our children, grand children and great grandchildren in faith can boast that their fore parents in faith never stopped planting seeds..." AMEN!!!
SEPTEMBER, 10: A TIME TO CELEBRATE BUT YOU WILL NEED TICKETS -- 150 Year Anniversary Celebrations only come around infrequently so YOU DO NOT WANT TO MISS THIS ONE!!! It will be very special, and we are expecting a full house of 170 people. Although not a fundraiser, we do want to defray some of the cost of the luncheon and hopefully raise a little extra for COS's Outreach Ministries.To this end, the Celebration Committee chaired by Sally Baldwin will be selling tickets for a "suggested minimum amount" of $10 per person. Obviously, if you can or wish to pay more, the Committee will be ecstatic. The folks to be on the look out for are Sharon Crandall, Linda Goluskin and Sue Smock. They are expecting to sell out pretty quickly; but if sales are slow, they will be reporting results to Sally Baldwin and you know what that means!
IT WAS ONLY A MATTER OF TIME: OUR ISRAELI PALESTINIAN CHRISTIAN GUIDE IYAD QUMRI WAS PREVENTED FROM ENTERING THE OLD CITY OF JERUSALEM TO GUIDE HIS PILGRIMS IN PRAYER AT THE STATIONS OF THE CROSS -- A week ago Sunday, July 16, at 5:00 AM Iyad Qumri, the Guide who has led every one of our Pilgrimages since 2004, gathered 28 Pilgrims from the Commission for Women's Ministries in Dallas to carry the Cross from St. George's Cathedral to the First Station of the Cross. The Pilgrims never got into the Old City. Below is a portion of an explanation of what happened from Pilgrim Carol Folbre, St. John's New Brunfels, TX.
"Our guide stopped us at the last intersection before we crossed the street to the Old City Gate. An Israeli barricade of metal panels walled us off. Five young Israeli police, armed with assault rifles, questioned our guide in Hebrew. I heard one familiar word, Iyad, our guide's name, and felt the tenseness as time passed without movement. Why wouldn't we be allowed in? The Stations of the Cross were for the entire world to experience in peace. Had we reached prematurely Jesus' first Station of being judged falsely?
"Iyad turned to us and said, 'They will not let me in. You can go in as tourists along with people who have business inside the Old City, but I cannot because I am Palestinian.' We stood in shock and silence. 'Can I have a priest come up here with me to explain to the Israelis that it's been my business for over 30 years to lead people to worship?' One of our five Episcopal priests went forward to speak in English on Iyad's behalf. We were at a standstill. Then Iyad looked back at us and continued. 'Friends, this is the first time this has happened. These guards have turned me away from my own city. They are preventing me from conducting my business in Jerusalem.'
"The priest explained to the guards that he'd previously brought six different church groups from all over the U.S. and always had Iyad as his guide because he was a key partner in explaining Christ's message. An Israeli police woman in her early twenties said in English, knowing Iyad understood, 'Tell your guide we don't speak English.' She added that he could not enter because they didn't know who he was, but tourists were welcome. How did the guards know who foreigners were, but not a Palestinian who entered the Old City and drove the streets of Jerusalem daily?
"Iyad turned to us again. 'You may go in, but I cannot.' Silence ensued. Then, as a group we replied, 'We will not go in. We stand together with you, Iyad.' We left in silence following Iyad as he lifted the large, wooden cross that dug a little deeper into his shoulder. We were yoked with his pain, his quiet dignity and his calm assurance thoughprisoner in his own country. Jesus' image of taking up the Cross flashed through my mind: the Second Station. 'We can go back to St. George's Cathedral and pray together each Station of the Cross.'"
FRIENDS OF SABEEL NORTH AMERICA: A Christian Voice For Palestine --
"It is time to act! In the past week, we've watched as Israeli military officials restricted access to holy sites in Jerusalem, then brutally attacked worshipers in the streets with tear gas, sound bombs, and other displays of excessive force. These assaults left four Palestinians dead and hundreds more critically wounded.
"And last month, in an open letter we heard the call of Palestinian Christian voices on the ground, as the National Coalition of Christian Organizations in Palestine asked for solidarity from the World Council of Churches:
"Things are beyond urgent. We are on the verge of a catastrophic collapse. The current status quo is unsustainable. This could be our last chance to achieve a just peace....We need you now more than ever. We need your costly solidarity. We need brave women and men who are willing to stand in the forefront. This is no time for SHALLOW DIPLOMACY CHRISTIANS."
MEANWHILE, FROM THE EPISCOPAL CHURCH...SILENCE!!! -- Several weeks ago I wrote about the disturbing videos I have been seeing on Facebook showing Israeli police and Occupation Forces brutalizing Palestinians in the Old City and the West Bank. In fact, these videos have become so disturbing that I have stopped watching most of them. Tragically, most Americans are totally indifferent to the plight of the Palestinians, Christian or otherwise, while TEC barely continues its years long policy of SHALLOW DIPLOMACY!
Hoping and praying that some of you respect our judgement enough to see for yourself what we are concerned about, I am listing again a number of Facebook pages where you can see for yourself how the "ONLY DEMOCRACY IN THE MIDDLE EAST" is behaving.
I Do Support Palestine -- Jewish Voice For Peace -- Mondoweiss -- EPF Palestine Israel Network -- 972 Magazine -- If Americans Knew -- Palestine Will Be Free -- Jonathan Cooke -- Eye In Palestine. VIEW AND/OR READ THEM AND WEEP!